The national highway between Palakkad and Vadakkenchery is punctuated with corporate-style flex boards of the three political fronts — the Congress-led United Democratic Front (UDF), the Marxist-led Left Democratic Front (LDF), and the Bharatiya Janata Party (BJP)-led National Democratic Alliance.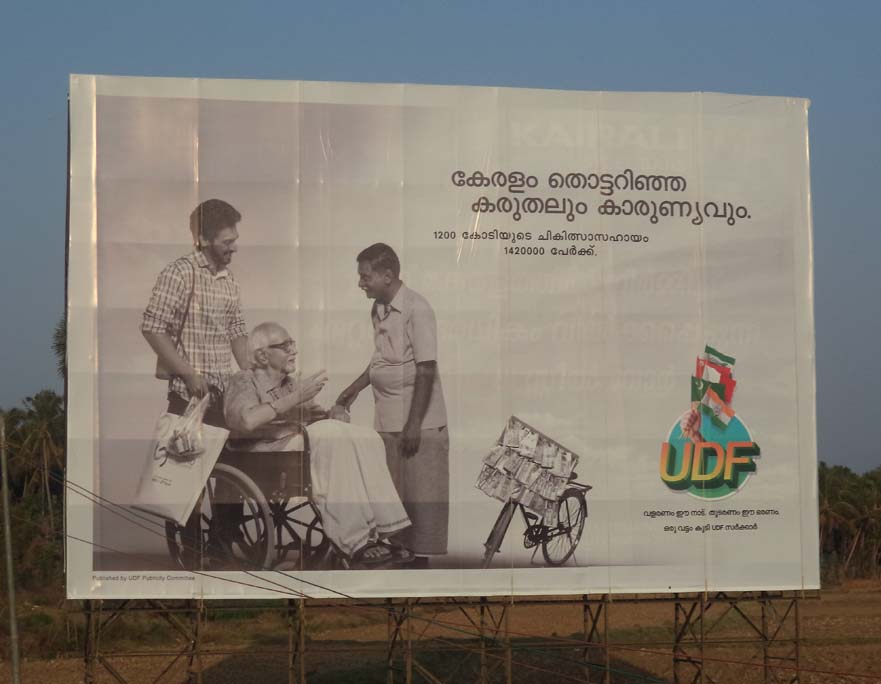 'Intoxicating peace in homes'
'Startup revolution in Kerala'
'The world's coming to Kerala'
UDF 2016 campaign song video
The UDF's flex ads are aspirational. Whether it is about the airport in Kannur or the tech hub Smart City, the ideas chosen are Janus-faced, inviting the voter to look back at the UDF's achievements and simultaneously look forward to their economic potential.
Only the UDF logo is in colour. The ads (see Slideshow) use abundant white space to simultaneously draw and deflect attention: white guides the eye to text and pictures, and the mind to associate the UDF with white (purity, goodness, honesty), rather than shady deals and corruption scandals. Metro models, simple typography, and minimalist design, proclaim an urban, upper-class aesthetic. Strikingly, political leaders are missing; the ads highlight ideas and projects.
While UDF ads appear to be from Mumbai, the LDF ones feature quintessential Malayalis.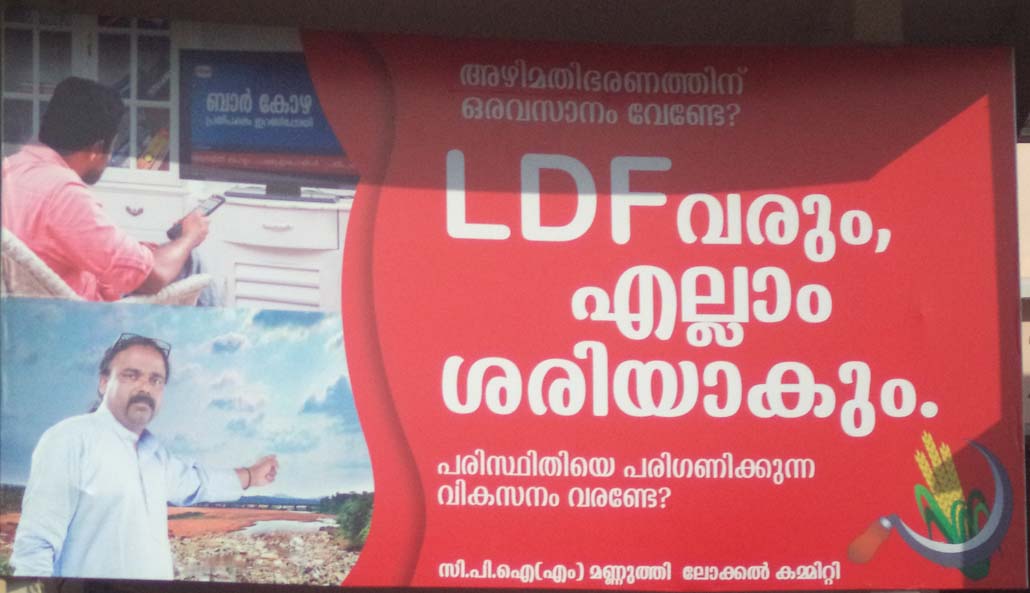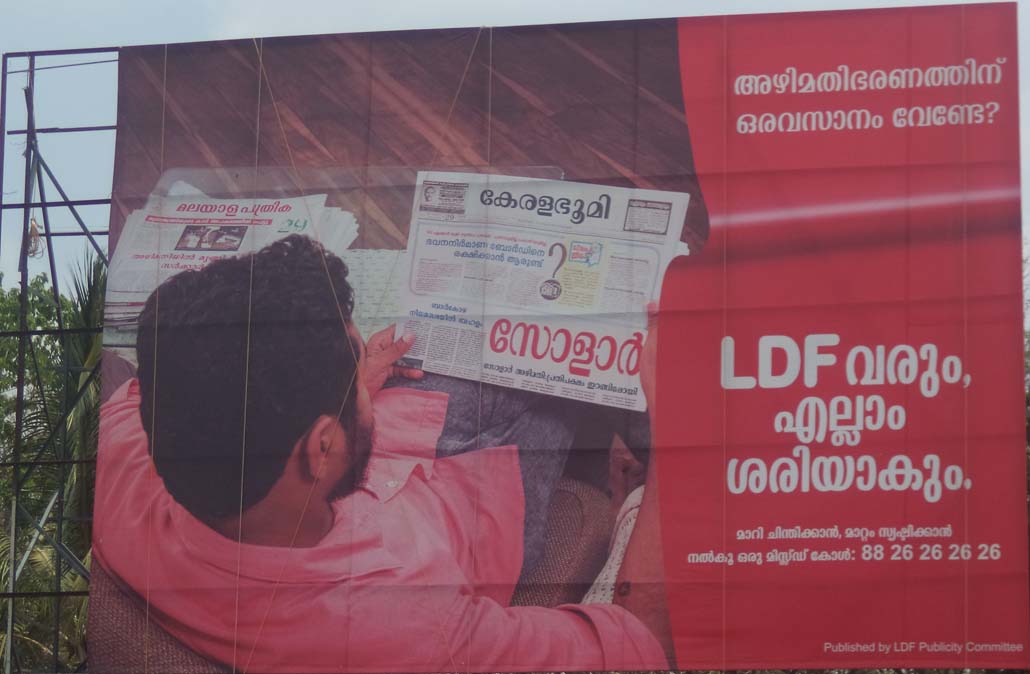 'End the sale and squander?'
'Time for development to reach the farmer too?'
2-in-1 ads pivot around UDF corruption
'Shouldn't ecologically sensitive development happen?'
LDF ads feature Malayalis from lower and middle classes
LDF's central campaign theme is UDF's corruption
The Left's big ads are of two kinds. The first, featuring CPI(M) leaders in a united show of strength, glut the highway — there is one almost every two kilometres. One half of the ad highlights UDF corruption while the other half counters the mainstream media's narrative (disunited leadership, two party stalwarts jockeying for power). The ad, however, cleverly leaves the leadership question unanswered — VS Achuthanandan stands in front of Pinarayi Vijayan, yet equally, Vijayan is at the centre. EMS Namboodiripad and AK Gopalan, regular fixtures in Kerala communist iconography, are out of the picture.
The second kind of ads highlights issues, such as communalism, corruption, ecological damage, and lack of agricultural development (see Slideshow). Although the ads have been published in the name of local committees, the uniformity on display across constituencies suggests that the ads were designed centrally. In contrast to the UDF and BJP ads which highlight issues, the biggest lettering in corresponding LDF ads is reserved for the general slogan: 'LDF will come, Everything will be alright'.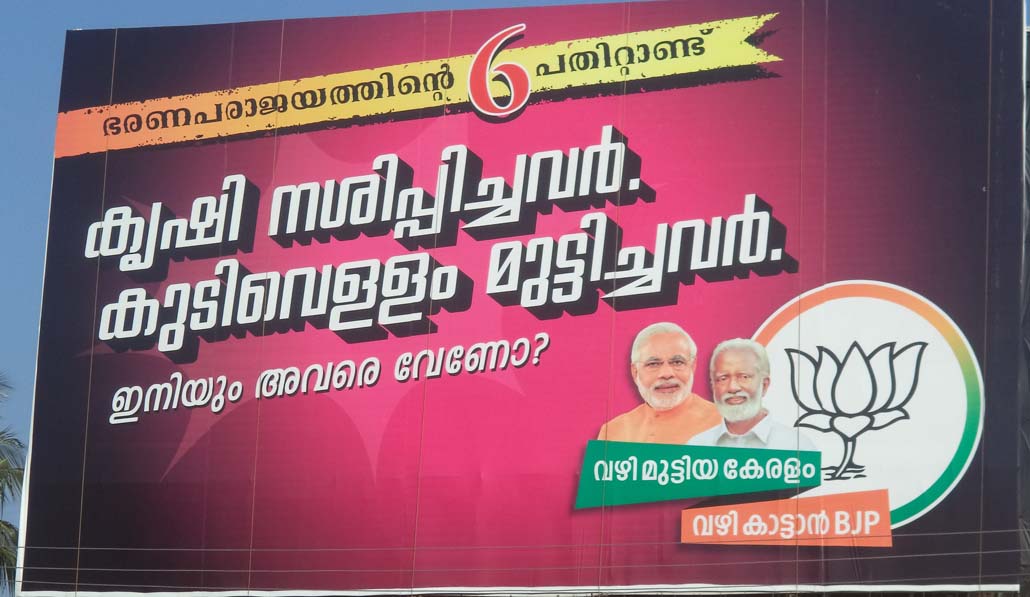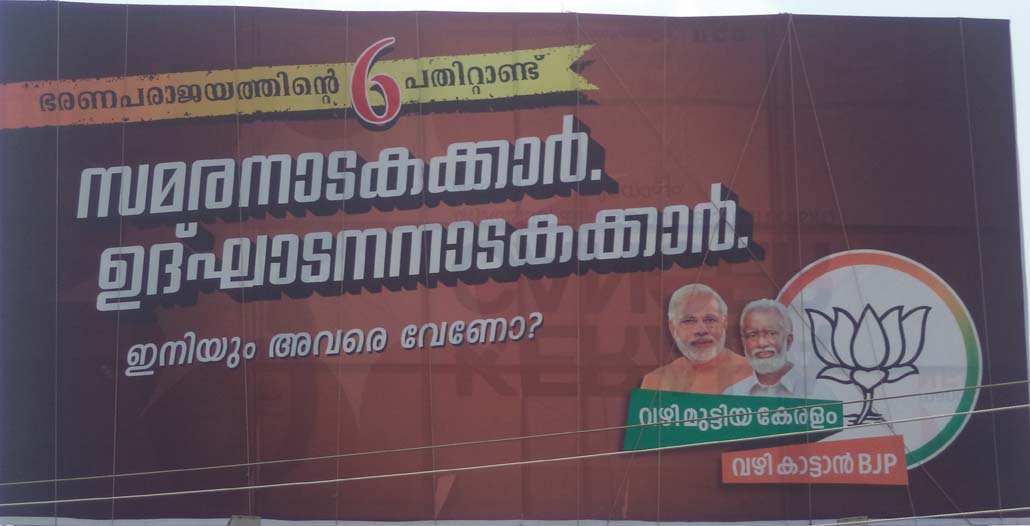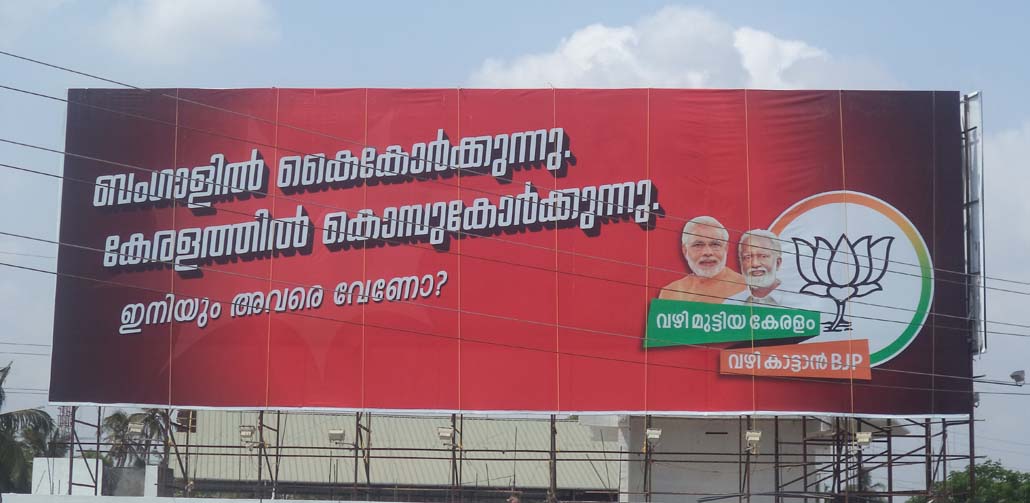 They that are without sin
'Kerala at the crossroads, BJP to show the way'
'Friends in Bengal, foes in Kerala'
Just as, cloth banners gave way to flexes long ago, locally produced boards are now ceding ground to centrally prepared campaign stationery. Giant, corporate-style hoardings tower over old-style, smaller posters and flex boards designed in small-town DTP centres. But the latter continue to dominate the scene numerically.
Politics and elections, even in ancient Greece, involved persuading and convincing citizens through rhetoric and other means. But once political parties sell like firms, playing on people's minds with increasing sophistication, the gulf between reality and projection is widened, and dishonesty in politics deepened. The savvy who win elections in this manner end up relying on even more PR for governance.
In Kerala, political parties are hiring ad agencies, the New Indian Express newspaper reported this month. It signals the increasing professionalisation of parties and elections. Once democracy is marketised, or begins to mirror the market, we must brace ourselves for dominance by big, established players. Elections in Kerala have been free for sixty years, but will they be fair twenty years from now?
How do you read these ads? Will they help to deepen democracy?
Musician Brian Eno's article 'Taking Control of Democracy' (The Guardian)

'When governments rely increasingly on sophisticated public relations agencies, public debate disappears and is replaced by competing propaganda campaigns, with all the accompanying deceits. Advertising isn't about truth or fairness or rationality, but about mobilising deeper and more primitive layers of the human mind.'
Credits: Text and Photos – Ashok R. Chandran; Video source – Official YouTube channel of Oommen Chandy.